Thank you so much for being interested in the Three Rivers Promise. We are currently in our initial fundraising phase. Which means scholarship funds are not yet available. We plan to start accepting applications and awarding partial scholarships after reaching our phase one fundraising goal of $3M. Please visit our
donation
or
donor wall of fame
pages to see our current fundraising progress or make a donation.
Our Mission:
To help graduates of the Three Rivers Community Schools achieve their goals by supporting their post-secondary education and training.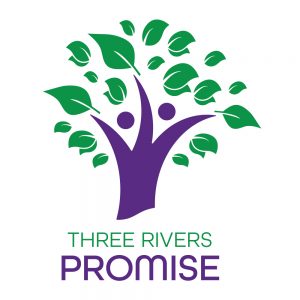 Our Vision:
To enrich the Three Rivers area to be an even more vibrant and nurturing community for families and businesses.
Helen McCauslin
The Run For The Future 5K Race/1 Mile Walk was a success! Many thanks to our sponsors, runners, walkers, volunteers, and everyone behind the scenes. You made this amazing community event possible and [...]
Helen McCauslin
Three Rivers Promise extends a great thank you to Kendra Dillivan Eldridge of Century 21!   As 2022 began, she challenged herself and other businesses to support the Promise.  Kendra pledged to donate 10% of her [...]
Helen McCauslin
We're excited to announce that today, March 15, 2022, is the first anniversary of the public announcement of the Three Rivers Promise! We want to take this moment to thank all of the generous individuals [...]